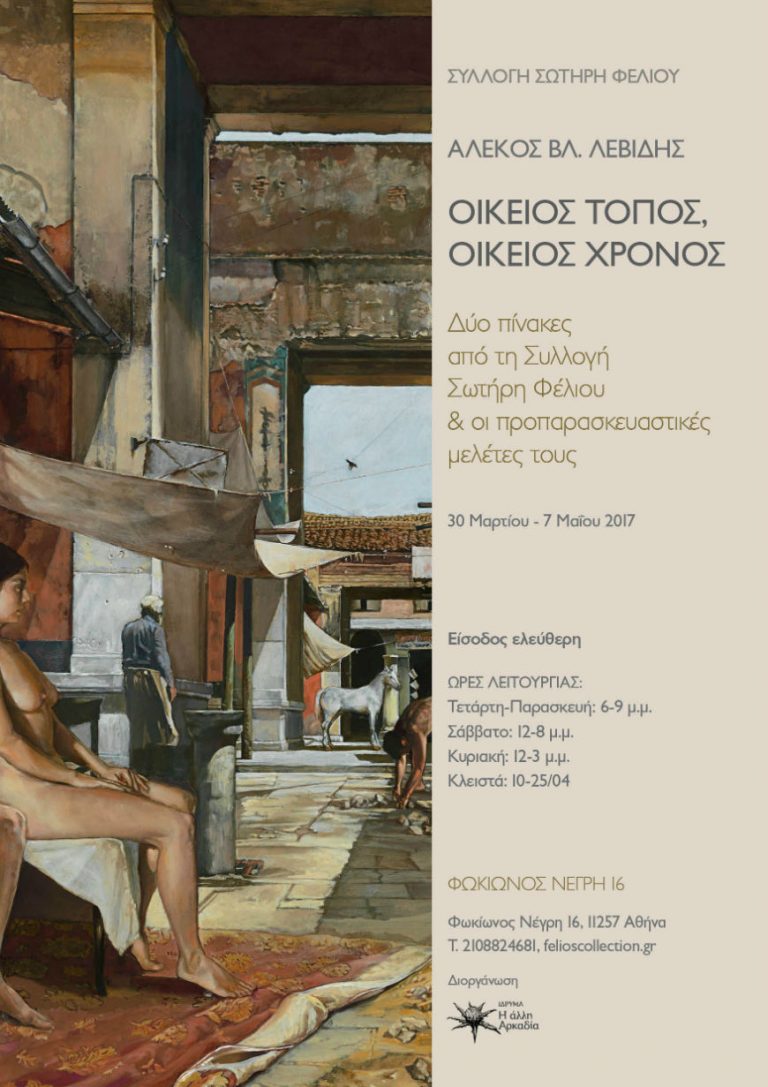 Alecos Levidis. Familiar Place, Familiar Time: Two Paintings from the Sotiris Felios Collection, with their Preparatory Studies
The exhibition of Alecos Levidis titled "Familiar Place, Familiar Time: Two Paintings from the Sotiris Felios Collection, with their Preparatory Studies" opens at 16 Fokionos Negri on Thursday 30 March 2017 at 7 p.m. with the event "In Conversation with Alecos Levidis". Dionysis Kapsalis, Director of the National Bank of Greece Cultural Foundation, and Nicolas Paissios will talk with the artist about his work.
The exhibition presents two paintings by Alecos Levidis, which are part of the Sotiris Felios Collection: Models in the Studio and Agora along with numerous preliminary drawings, preparatory studies and the artist's notebooks that led to the making of the two paintings.
All the drawings exhibited accompany the two paintings and present the gradual  formation of the works: Life-size figures drawn on paper, studies with coloured pencils and pastel, as well as preliminary drawings on the pages of the artist's notebooks, which he has carried  with him everyday since his school days and which act as visual diaries.
Nicolas Paissios writes in his essay about the painting "Models in the Studio": "It refers directly to a western ecclesiastical triptych. The top part is laid out in three sections, while the lower half takes the form of a Renaissance predella, with five smaller scenes in procession, running from left to right, as brief but significant episodes, like a comic strip or frames from a movie." And he notes about the painting "Agora": "It may be smaller than "Models in the Studio", but it has such immeasurable depth that that viewer needs time to decode the many elements and contrasts the gaze encounters all along its journey…".
Additionally, two more paintings, from the same cycle of work by the artist's personal collection, will be displayed: "The Painter and the Model" and "Afternoon Sun" inspired by Cavafy's poem with the same title.
"Levidis is an intellectual artist; those sparsely involved with art would flippantly use the term 'cerebral artist', Paissios remarks.
The exhibition is accompanied by a fully illustrated, bilingual (Greek-English) catalogue, which includes texts by Sotiris Felios, Nicolas Paissios, Alecos Levidis and Marica Rombou-Levidi.
Exhibition tour
Alecos Levidis will host a guided tour of the exhibition on Wednesday 5th April, at 7 p.m.
Works
Catalogue
View the exhibition catalogue
Exhibition Views
RELATED EVENTS