The Sotiris Felios Collection. Kostas Papanikolaou: Re-visit
On Wednesday 23rd November 2016, at 8 p.m., the art exhibition "The Sotiris Felios Collection. Kostas Papanikolaou: Re-visit" will be inaugurated at 16 Fokionos Negri. The exhibition presents 32 out of 75 works by Kostas Papanikolaou, which belong to the Sotiris Felios Collection.
Papanikolaou observes, isolates, cuts into pieces, immobilises; he records life and the space around him, as defined by his experiences and everyday life. It is his everyday life over a long duration: the exhibition spans almost his entire career from the time he graduated from the Athens School of Fine Arts to his recent period (1985-2013).
In Papanikolaou's work, the world is being unveiled in fragments, like the view from the omnipresent window. Inside or out, absolute silence and immobility dominate, even if the initial visual stimulus requires the opposite, as when the artist depicts urban landscapes. The viewer has the feeling that he sees a stationary yet evolving image, a stage setting, a glass barrier which, though permitting visual contact, immobilises him out of context, i.e. beyond reality.
The artist is not interested in faithfully rendering the image of a landscape in his work. The minutely elaborate individual elements often become stylised motifs, intertwined in a single composition that recalls folk art or even weaving. Rather he seeks after a feeling, a 'vibration' as he senses it.
The exhibition curator Dr Tatiana Spinari-Pollali remarks that Papanikolaou's art can be described on all levels as honest painting. That is, his work is sincere and consistent with his life, values and beliefs. He mainly uses egg tempera on wood or even creates frescoes on bricks, materials that endow his work with transparency of colour and with texture while serving the artist's visual paradigm: pure, Greek painting.
Kostas Papanikolaou tries determinedly and persistently to reveal and project a code of values defined by Greek landscape. This choice aligns him, albeit anachronistically, with the quest of the generation of intellectuals and artists active in the interwar period. They, too, searched for authenticity through the tangible past and the present.
The exhibition is curated by art historian Dr Tatiana Spinari-Pollali, who is also the editor of the exhibition catalogue, while the show's architectural design is due to architect Stamatis Zannos.
The exhibition is accompanied by an illustrated, bilingual (Greek-English) catalogue, which includes texts by Sotiris Felios, Tatiana Spinari-Pollali, Michel Fais, Penny Tselentis, Edouard Sacaillan and Theodoros Adamopoulos.
Tours to the exhibition
Kostas Papanikolaou will be hosting 3 tours of the exhibition, on the following dates:
Saturday 3rd December at 12:30 p.m.
Saturday 14th January at 12:30 p.m.
Sunday 29th January at 12:30 p.m.
Works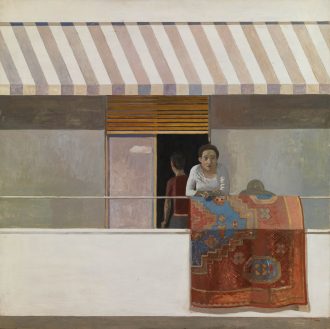 Catalogue
View the exhibition catalogue
Exhibition Views
RELATED EVENTS